Welcome to
Central Bark
from the Evansville Dog Owners Group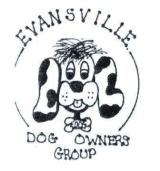 The Evansville Dog Owners Group (EDOG) is an all-volunteer nonprofit organization made up of dog lovers just like you. Our goal is to give you a place to exercise and socialize your dog in the off-leash park.
Central Bark is located at the NE corner of Kleymeyer Park, this is a two-acre park designed for dog owners to let their non-aggressive pets have some off-leash playtime. The park features trees, benches, some agility equipment and a porta-potty.
The permitting process will require owners to provide health and safety documentation, specifically current Rabies, Distemper/Parvovirus, and Bordetella vaccinations, a dog license if applicable, and a Waiver & Release Form to comply with established Rules for use of dog play areas. Dog owners, who live within Evansville city limits, must have their dog licensed with the City to apply for an off-leash dog permit. Dog Licenses can be obtained at Evansville Animal Control.